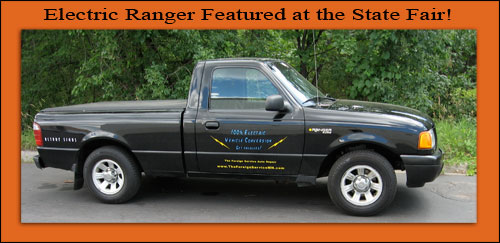 ELECTRIC CARS (Ranger) WEB PAGE


PHOTO ALBUMS: OVERVIEW GENERAL PHOTOS
(Photo albums open new windows. Close the new window to return here)
OUR HISTORY WITH ELECTRIC VEHICLES (AND HYBRIDS)
OUR HISTORY WITH ELECTRICS AND HYBRIDS
My interest in electric vehicles started with the controversy in California over whether that state could mandate that a certain percentage of zero emissions vehicles be sold. That was back in the nineties, and zero emission vehicles by default would have been all electric. GM and Toyota (among others) actually produced electric vehicles for a while to test them. (Please rent or borrow the movie WHO KILLED THE ELECTRIC CAR to get a detailed history of that situation.)
A massive nationwide PR campaign was launched to convince the buying public that electric cars were bad. I got a book on converting cars to electric and the author made the process seem very reasonable. That piqued my interest, so when a donor truck came along, I decided I had to prove whether or not it was a reasonable thing to do in Minnesota.
I got my electric Mazda on the road in 2001 and am still driving it today. It proved to be a good thing to have done. I love the instant heat in the winter, and really appreciate that I don't ever have to stand in a cold windy gas station waiting for a tank to fill, all the while sniffing obnoxious gas fumes.
By that time I had started hearing good things about the Prius hybrid, and decided it would be wise to get a comprehensive knowledge of those cars too, since they shared so much technology with all electrics. I bought a used '01 prius a couple of years later and am now on my second one-I love it so much. I recommended the Prius to so many of our client that we became a center for independent (non dealer) Prius repair. The Foreign Service has a Prius loaner car with over 312,000 miles on it!
WHY DID WE CONVERT THIS RANGER IN 2009:
This project was begun when Todd convinced me that he really wanted an electric vehicle NOW. I had the knowledge, experience, and resources to accomplish the job, so we partnered together to make it happen. We had several goals. The most obvious was to get Todd a daily driver truck to replace his worn out Mazda pick-up. Another goal was to educate the public about electric vehicles in general and to use the Ford platform to generate interest in our Minnesota built Ford trucks.
We had a choice of using the latest and greatest technology or the very basic systems like I had in my truck. We decided to use the very basic systems that were available even back in the 1980's. The reason was two fold. One it is cheaper. DC motors and their controls cost less than AC motors and controllers. And the traditional flooded lead acid batteries are cheaper than any of the lithium or nickel batteries. The second reason is to make a statement. Even using eighties technology, these cars are practical. Listening to the news, we are constantly battered by the automotive "experts" telling us that the electric car or the batteries are almost ready but not quite. If we just wait a little longer and we are patient, they will make us a really good car. This qualifies as one of the BIG LIES. It is like saying that a Ford Focus is no good because it wont fly at two thousand feet. Of course it won't-- it isn't an airplane. Well, I'm not going to jump into my electric Mazda and drive to Duluth. It won't go that far. I use it around town and never ask for a take-off clearance...
One of the most common questions I get about my Mazda is "how far will it go". If I feel that someone doesn't get the concept of an electric vehicle, I will tell them "farther than I ever wanted to go in it". It may be a little mean, but it is true. Gas powered cars are impractical for much of what they are used for. A gasoline car that can get 20 mpg on the highway might get 6 or 8 mpg around town in the winter and never even get warmed-up enough to thaw out the driver. Would you call that practical? The different technologies have their strong points and their weak points. What irritates me is that we are never given a choice about buying electric cars (unless we built them ourselves).
THE FORD RANGER DETAILS
TIME TO CONVERT 6 weeks
COST OF CONVERSION Approx $15,000
RANGE Varies depending on speed, temp, heater use. Approx 40 miles
MOTOR DC Advance fb 4001a
CONTROLLER Curtis 1231
BATTERY PACK 12 12 volt deep cycle batteries 210 amp hr
CHARGER Zivan ng1
TOP SPEED Tested to 70 mph Will go faster
POWER STEERING Yes Electric over hydraulic
BRAKES Original power brake system (electric vacuum pump) With ABS
AIR CONDITIONING Windows
HEATER Two heaters: A PTC element and a heating element feeding the original heater core total approx 3500 watts
Apart from removing the dangerous gas tank and other internal combustion components, all other systems were left undisturbed. Airbags, sound system, lights, dashboard instruments, and etc still function. Gas gauge and oil pressure gauges are present but have nothing to report.
Three gauges were added to the top of the instrument panel. A voltmeter for the 144 volt battery pack, an ammeter to show instantaneous energy consumption, and an energy monitor--sort of a gas gauge for the battery pack.
WOULD WE DO ANOTHER CONVERSION PROJECT
Absolutely yes.
THE FURURE OF ELECTRIC VEHICLES
Electric vehicles and plug-in hybrids have a very bright future. They will be very useful tools for us to create a better energy future for our country. The fact that they can be charged during off peak times and the charging can be controlled by your utility company is a huge benefit in giving energy companies the flexibility to use sustainable energy such as wind and solar. Current technology allows your utility to turn off you air conditioner (our system in St. Paul is called the SAVERS SWITCH). This could be adopted for electric vehicles virtually overnight.
There is a lot of buzz about using electric vehicles to store energy for the utilities by giving them access to the stored energy in the batteries. Several articles I have read recently imply that we cannot bring a large number of vehicles on the road until we have solved this "problem". I view this the same way I view hydrogen fueled vehicles. They are both great ideas, but will be off in the future, and they have NO RELEVANCE TO GETTING CARS ON THE ROAD NOW!